CIDERCRAFT, NORTH AMERICA'S FIRST CIDER PRINT PUBLICATION, LAUNCHES SPRING 2014
Seattle, WA (April 8, 2014) - From Sip Ventures, the privately owned and operated publisher behind the award-winning regional beverage publication Sip Northwest, comes CIDERCRAFT—the first North American magazine dedicated to cider. CIDERCRAFT devotes itself to shining a light on the evolution and resurgence of one of the oldest beverages on the continent, bringing both education and appreciation of the drink to the thirsty people.
With circulation for the inaugural issue commencing at 25,000, the bi-annual CIDERCRAFT magazine will profile the artisans behind the craft, while exploring the regions andorchards, meeting the movers and shakers of the industry, listing original cocktail recipes from nationally renowned bar-chefs, recommend pairings with cider-friendly cuisine and aid as a connection between the consumer and cider producers.
"I am immensely grateful for the editorial team of international cider writers and experts we have enlisted for this first issue," said Erin James, CIDERCRAFT editor-in-chief. Contributors include "World's Best Ciders" authors Bill Bradshaw and Pete Brown, along with international cider aficionado Rowan Jacobsen and many more talented cider wordsmiths. "The response we've had from food and beverage writers has been very inspiring," James said. "We knew we could acquire a stellar set of professionals."
The favorable reaction wasn't just from passionate drink writers, but from North American cider producers as well. "Cider is in a state of incredible growth right now, however, few people really know what cider is all about or the diversity the craft of cider represents," James Kohn, co-owner of Wandering Aengus Ciderworks in Salem, Ore., said. "CIDERCRAFT will be huge for the burgeoning cider industry because it will show cider for what it really is—a diverse and legitimate drink."
Vermont Hard Cider COO/CFO Dan Rowell, who sits on the United States Association of Cider Makers board of directors with Kohn, echoed the same sentiment. "The cider category is growing quick and pulling drinkers from beer, wine and spirits alike," Rowell said. "Interest in cider is rising, which leads to the desire for knowledge and a thirst for trying new cider styles. Having a publication focused on delivering the story of cider and of the many great cider makers across the country will drive greater interest and growth in the cider category."

For advertising opportunities, contact Kristin Ackerman at publisher@cidercraftmag.com. For editorial questions, contact Erin James at editor@cidercraftmag.com. To subscribe visit www.cidercraftmag.com.CIDERCRAFT is published by Sip Ventures, 1700 7th Avenue, Suite 116 #378, Seattle, Washington, 98101.CIDERCRAFT can be found online at www.cidercraftmag.com, and on Facebook and Twitter.
Posted on Thursday, April 10th 2014
California's Bonny Doon Vineyard asked themselves a question when they started planning their most recent cider offering ­ what would the fermented juice of pears, apples and quince taste like?  They called their creation ¿query? and were nice enough to send Cider Times a bottle so we're gonna help answer some questions posed by the Santa Cruz winery's new beverage:
1.What is a quince?
Quince is a small fruit similar to a pear and is in the Rosaceae (rose) family, which includes ¿querry?'s two other fruit ingredients: pears and ciders.  If you really want to get into the weeds of the big rose family tree check out Hawthorn and medlar fruits.
2. What does ¿querry? look like?
The cider (with 62% pears, 36% apples and 2% quince, it's neither cider nor perry by most definitions,  but we'll just ignore those rules and call it a cider) is a golden yellow, just like the Quince fruit you just learned about.  You didn't ask yet, but it smells of apples and pears and the mustiness of Bonny Doon's indigenous yeast.
3. How many points is the word quince worth in Scrabble?
It's 17 with no bonuses, but we here at CiderTimes think it's worth saving that word until you can get at least a double word score, even better if you can get a triple word score, that's a cool 51.
4. But what does ¿querry? taste like?
Geeze, slow down, don't you want to know how they fermented the quince? No, you don't? It includes two more vocab words.  Ok, if you really don't care about muslin bags and tisanes of quince, we'll just get to the point.  ¿querry? is surprisingly smooth and sedated.  Apple and pear flavors crisply blend with a perfect balance between sugars and tannins.  The sugars shine for a moment, before a soft dose of tannins cleans your palate without ever hinting of astringency.  A very light amount of carbonation makes it perfect pairing for dinner.
5. Where's that dang Malaysian airliner?
The Cider Times declines to comment.
6. What food pairs well with ¿querry?
We would need a full case of ¿querry? to evaluate how it pairs with everything Bonny Doon recommends ­ a list that includes humble meat pies and elegant lobsters and adjective­ free charcuterie ­ but we can answer how it matches up to a good ole arugula, pear and walnut salad.  When we paired the two at a dinner party they were incredibly fond of each other.  The salad dressing's acidity worked well with the moderate amount of acid in the ¿querry?, the walnuts gave a little more earthiness and neither party dominated the conversation.  I wouldn't want to put ¿querry? up against particularly loud dishes, I could see a spicy thai soup or rich American barbecue squashing the cider's subtle flavors. 
7. So, should I buy a bottle of ¿querry??
Yes, there's a lot of reasons to add this cider to your collection.  It's a fun cider that would be a great start to any dinner party.  It's not as bombastic in the flavor department as some ciders, but it's a gem in terms of balance and subtlety.
By Lester Black, The Cider Times
Posted on Monday, April 7th 2014
Why is cider the world's most misunderstood drink?
There's no easy way to humblebrag this so let me get it out of the way and move on: I just got back from Chicago, where I was flown and accommodated for a week mainly so I could drink cider.
Well, it was one way to celebrate the end of Dry January.
I was invited to Chicago, which is currently located in the depths of the arctic, to talk about World's Best Cider, the book I wrote with photographer Bill Bradshaw, to several hundred American cider makers attending the industry's annual CiderCon. After the trade conference there was a public event, the Chicago Cider Summit, where 4000 punters – most of them very new to cider – came along to sample and celebrate a drink that is doubling in volume every year.
There was a bullish confidence among the cider makers, spiked by the rush of an event that, already in this fledgling cider scene, outstrips any celebration of cider I've seen in the UK.
My conference presentation was subtitled 'The world's most misunderstood drink.' Cider confuses people in myriad ways around the world, and I'm not just talking about the effect of drinking a lot of it. One of the biggest areas of misunderstanding seems to be around what cider actually is.
Read the rest of Brown's thoughts on cider here.
Article by Pete brown
Photo and article by London loves Business
Posted on Friday, March 7th 2014
Review: Alpenfire's "Glow"
Steve "Bear" Bishop - who owns and runs Alpenfire Cider with his wife Nancy - has been fighting fires in the Northwest since 1976.  When the Bishop's decide to start making cider professionally in 2001 they decided to take inspiration from Bear's days as a firefighter when naming their Port Townsend orchard and cidery.  After running into trademark issues with the name "wildfire," the Bishop's settled on "Alpenfire."
Their ciders carry on the fiery naming tradition with names like "Ember," "Flame" and "Smoke," but their "Glow" embraces the company theme in more than just name.  The cider pours a brilliant pinkish red just like the light thrown across a night sky by a distant wildfire.
The cider has both a sweet and tart nose, smelling of candy apples and just a bit of pleasant acidic aromas.  Those candy apple flavors dominant Glow's flavor but the acidity of the cider - it's quite a bit more acidic than Alpenfire's semi-sweet "Spark" - tempers the cider's sweetness.  Those sugars do become more apparent in the mouthfeel, with sugar lingering in almost a cloying fashion.
For all of the fieriness of glow's name it's actually an excellent display of balance.  Those higher levels of acidity help deliver the cider's sweet flavors with more a zing, while the sugars provide great flavor and keep the malic acid from overwhelming the drink with acidity.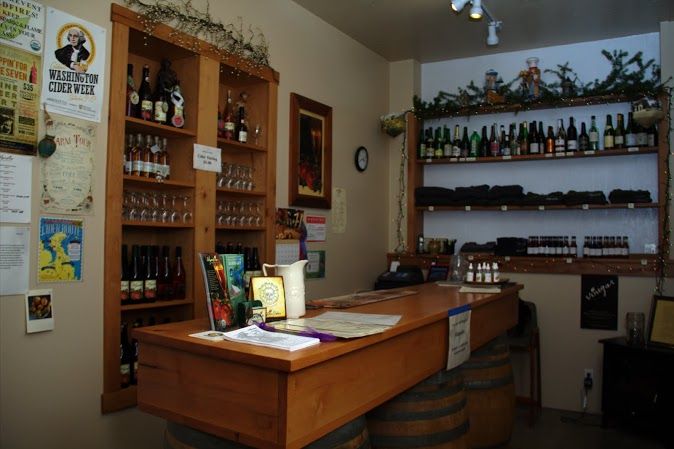 Glow gets its color from "Hidden Rose" apples, a rare varietal with surprising reddish flesh covered by a yellow skin.  There's solid scientific evidence (like peer-reviewed scientific journals of evidence) that the appearance of food affects how it tastes to humans and Glow is a great example of why appearance is important to cider just like flavor and aroma.
Balanced in flavor, interesting in aroma and beautiful look at, Glow is great in all three of those categories, so head over to your nearest specialty cider purveyor (Alpenfire's ciders are currently only distributed along Washington's I-5 corridor) or pick up a few bottles at the cider's Port Townsend tasting room.
Overall rating: Excellent.
By Lester Black, The Cider Times
Posted on Monday, February 10th 2014
United States Association of Cider Makers New Board
Chicago, IL – The United States Association of Cider Makers (USACM), the national trade association of the cider industry, has elected a new Board of Directors.  After a year of astounding growth in the US hard cider industry, some 200 member cider companies that make up the USACM, met in Chicago as part of their annual Cider Conference.
Throughout 2013, the organization worked to grow membership and advance legislative priorities.  It led to the creation of the CIDER Act which is currently making its way through the US House and Senate.  The bill seeks to create a tax definition for cider that allows for increased carbonation and higher alcohol by volume over what current tax law allows.
Find out who is holding a position on the new board here!
Original article and picture by Brewbound
Posted on Monday, February 10th 2014
Review: Alpenfire's "Dungeness Orchard Blend"
One of the biggest misconceptions about cider is that it is a simple drink, easily summarized by what comes in Angry Orchard bottles. That's far from the truth. Cider can be cloyingly sweet or completely devoid of sugar; it can be so acidic it's puckering or so high in tannins that it's bitter and astringent; and it can go from bursting with carbonation bubbles like Champagne to stiller than an English cask ale.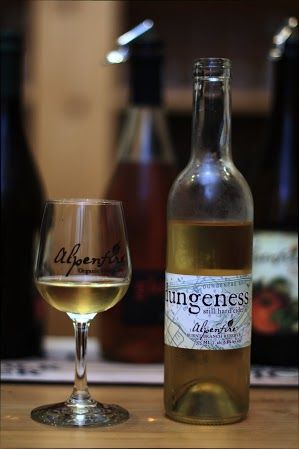 Alpenfire Cidery's "Dungeness Orchard Blend" is a great example of the variations within cider. With it's complete lack of carbonation it could confuse most non-cider drinkers into thinking it is some kind of still white wine.
Dungeness pours with a whitish-yellow body and has a wonderfully complex nose. "Wonderfully complex" is usually writer's speak for "I couldn't really figure it out," and that is pretty accurate in this case. I thought I smelled some pear notes, or maybe tartness and apples. I really wasn't sure about specific aromas, but I was sure that it smelled great.
The cider had a thinner body, which makes a lot of sense considering it's lack of carbonation, with a hint of acidic tartness.
Alpenfire named the cider after Dungeness Orchard, where the cidery selected the more than 70 varieties of apple that went in to this cider, which make the cider both interesting and complex (and probably explain why it is difficult to pinpoint certain flavors).
Nancy Bishop, who owns Alpenfire with her husband Steve "Bear" Bishop, said because there is such a monster mix apples, each season play a bigger role than each specific apple in how the cider tastes. "You do a blend like that and the difference is more in the season than the varieties," Bishop told me at the cidery's Port Townsend tasting room.
Dungeness is a bit of perplexing cider, but in a completely positive way. From it's complex flavor profile to its surprisingly still nature, it's a great addition to any home cider collection - especially if you are still exploring all that cider has to offer.
Overall rating: Great
By Lester Black, The Cider Times
Posted on Friday, January 31st 2014
Photo credit by Virtue Cider
Here Are 5 Reasons To Get Excited About Cider in Chicago
Just a few years ago you'd be lucky to find a single cider on a bar menu, and it was pretty much guaranteed to be too sweet, but these days great cider is everywhere. Here are some reasons why this is the time to get excited about cider and try some of the great new options available:
Chicago is nestled close to prime cider apple orchards in Michigan and Wisconsin. Chicago-headquartered Virtue Cider has a farm in Fennville, Michigan which has quickly become a destination for day trippers to taste and buy cider. They are closed for the season right now, but will re-open in March. During the fall, when the apples are harvested and pressed into cider, many cider farms such as Vander Mill and Uncle John's welcome visitors to watch the process. In Wisconsin, ÆppelTreow Winery makes cider and perry, the underrated pear equivalent. Visit their tasting room to sample their selection and then take a stroll in their orchards. Look for more cider orchards to open in the Midwest as the cider industry grows.
The selection of cider in Chicago is bigger than ever before and growing.Cider has a reputation for being a sweet drink, but many new local ciders range from dry and slightly savory - like Vander Mill's pecan-infused Totally Roasted - to sour like Virtue's Percheron, now available on draft at many bars such as Farmhouse, and in large-format bottles at many retailers.
Bars, restaurants, and liquor stores are also expanding their foreign and domestic cider selections in response to cider's increasing popularity. The sophisticated and complex Eric Bordelet ciders from France, available at Lush Wine & Spirits, will appeal to wine aficionados. Beer-lovers, especially those who have to go gluten-free, might want to try the pleasingly bitter-sweet Tieton Cider Works' Yakima Valley Dry Hopped Cider or hearty Crispin Lansdowne Cider, which is brewed with ale yeast, both available at Binny's Beverage Depot. The uniquely tart and earthy Basque cider Isastegi is available at Lush and pouring this Tuesday Jan. 28 at The Green Lady's Sour and Funk Fest.
Continue reading all up on things Chicago and Cider here.
Article originally written by Melissa McEwen
Posted on Thursday, January 30th 2014
Alpenfire Review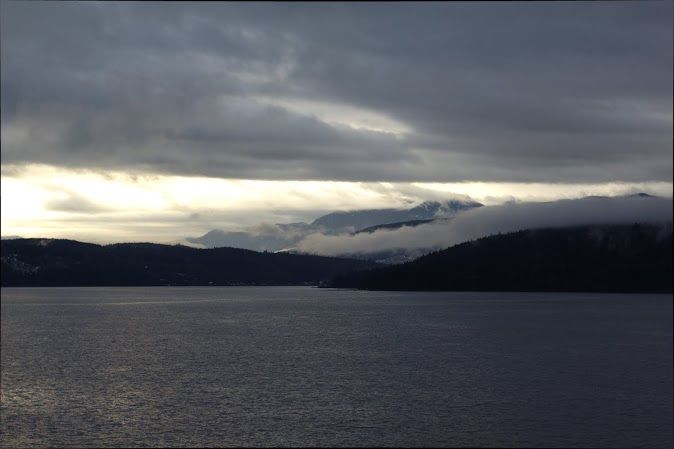 Nancy and Steve "Bear" Bishop live in close quarters with their orchard and cidery out in Port Townsend, Washington.  The two owners of Alpenfire Cider can see their orchard, pressing and fermentation facilities from their front door; their tasting room parking lot doubles as their own driveway; and you'll probably have one of the two Bishops pouring you samples if you happen in the place.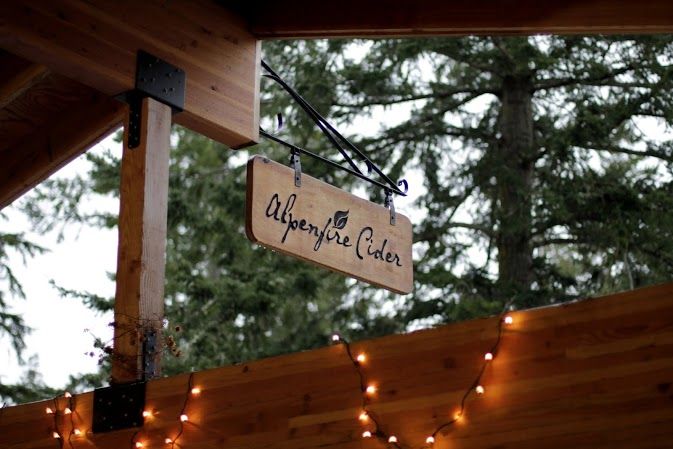 It's that intimate connection between their product and their customers that make the Bishop's operation a throwback to cider's early routes in America, when one in ten farms produced hard cider and the drink was most popular alcohol in the country.  And that connection is also probably why Alpenfire's line of organic hard ciders are some of the best cider Washington state has to offer.
The Bishops have been attracted to cider since they were teenagers - British Columbia's ciders and 19-year-old drinking age first attracted the couple to the beverage - but they both had other careers before they planted their orchard on the Olympic Peninsula in 2003.  And before they started commercially producing cider in 2006 they set off on a tour of the three principal cider making regions of Europe.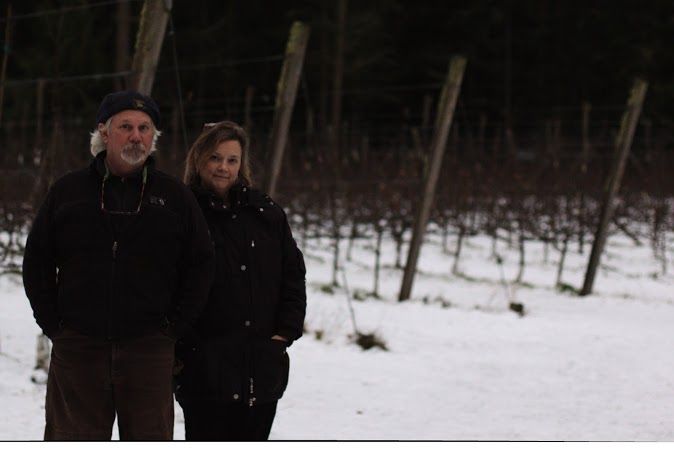 The variety of ciders they tasted on their trip, from the highly tannic ciders of England, to the farmhouse styles of France and the acidic ciders of Spain, opened the Bishop's eyes to what fermented apples could become.
"The whole trip was overwhelming," Nancy told the Cidertimes.com.
It's clear how big of an impact that trip had on the Bishops.  Instead of embracing a specific regional style, Alpenfire has a diverse portfolio of great ciders with varying levels of acidity, tannins and yeasts.
Alpenfire's orchard is certified organic and three of the ciders Alpenfire produces are also fully organic, making them the only organic orchard and cidery in Washington.
"We didn't even stop to think about it, of course we'd get certified organic," Nancy said. "But it was a lot more work than we might have wanted."
The Bishop's sometimes question if the time and money it takes to keep the organic certification is worth it, but even if they decided to leave the certification behind they wouldn't change how they make their cider.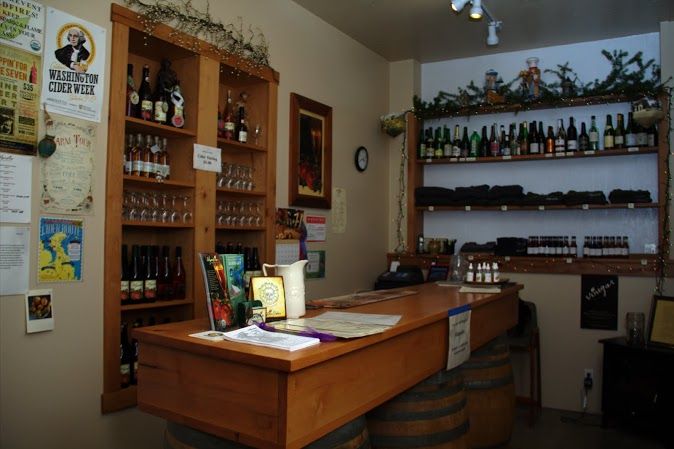 "We probably wouldn't consider making it any other way," Nancy said.  "In a way it keeps us very simple."
Their cider is now only distributed along the I-5 corridor in Washington State, but the Bishop's hope to expand their reach as they increase their output - last year they made 3,500 gallons of cider.
The best way to experience all of Alpenfire's ciders is by heading out to the Olympic Peninsula and tasting them at the cidery.  Alpenfire is joined by two other ciders in Port Townsend, Finnriver Farm & Cidery and Eaglemount Wine & cider,  and together they form the Port Townsend Cider Route.  Driving the route, which is cut through dense douglas fir forests just forty miles Northwest of Seattle, is also a great way for novice cider drinkers to get a crash course in the art of fermented apples.
By Lester Black, The Cider Times
Posted on Wednesday, January 15th 2014
Cider Summit Chicago Fact Sheet
What: 2nd annual festival.  Over 100 ciders expected from 36 producers.  Ciders from 13 states and 7 countries including 37 from IL/MI/WI.  Nearly half were not poured at last year's event.
Where: Lakeview Terrace Room, Navy Pier.  On 2nd floor, east end of the pier.
When: Two sessions – Saturday, 2/8 from 11a-3p; 4p-8p
Cost: $25 if purchased in advance online or at Hotel Palomar (early session only available at Hotel).  $30 at the door if any tickets remain. Admission includes tasting glass and 8 tasting tickets.  Designated driver tickets $5.  Additional tasting tickets available for $2.  Each session is ticketed individually.  21 & over only for both sessions.
Food: Specially paired samplings will be available onsite for purchase with tasting tickets.
Sponsors: Presented by Binny's Beverage Depot.  Supporting sponsors include World of Beer, Hotel Palomar, Chicago Brew Bus & Lakeshore Beverage.  Media partners include The Reader and WBEZ Public Radio.
Other Features:        
- Cider authors book signing & sale
- Event merchandise store. 
- Chicago Brew Bus shuttle from Red & Blue lines
- Parking onsite at Navy Pier
Beneficiaries:            
- Heartland Alliance
 - Great Lakes Cider & Perry Association
Tickets & more info: WWW.CIDERSUMMIT.COM
Questions?                 
Cell: 206.465.1550
Posted on Monday, January 13th 2014
Pumpkin Spice Cider - Seattle Cider Company
Pumpkin spices have become almost a cliche in the world of brewing, where breweries will load up their beers with enough sugar to and spice to give every middle-aged person at your Thanksgiving table a hypoglycemic attack. But even though breweries can sell these liquid cookies by the case before August is over the pumpkin spice theme is actually better suited for ciders, not beers. And Seattle Cider Co's Pumpkin Spice Cider makes a great case for leaving pumpkin spices to the world's cider makers.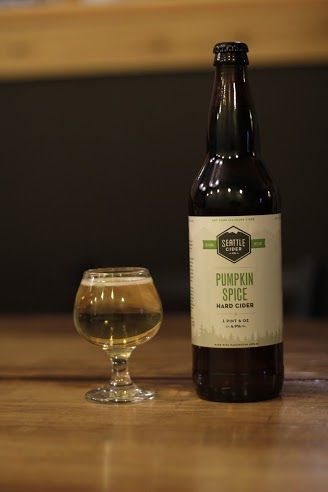 6.5% alcohol by volume.
The nutmeg and cinnamon is immediately apparent on the nose of this cider. The spiciness is still there when you take a sip but SCC managed to strike an excellent balance between spicy and sweet - a feat rarely achieved by anything labeled "pumpkin spice."
Pumpkin puree was used in addition to SCC's stock combination of five dessert apples (Granny Smith, Fuji, Red Delicious, Golden Delicious and Gala) but I couldn't taste any specific pumpkin notes in the flavor. What I could taste was a slight change in the sweetness profile, giving a slightly darker, earthier sweetness to the normal apple sugars.
If you can still find this cider (SCC is now selling their winter seasonal, a New England Cider, so it'll get harder to find this pumpkin spice cider around town) buy a few bottles and save for your next holiday meal.
Overall rating: great
By Lester Black, The Cider Times
Posted on Monday, January 6th 2014
Sonoma Cider gets some love from Forbes
Healdsburg-based Sonoma Cider has come to the attention of the business folks at Forbes, who named the new company as one of the nine "Hottest startups" of 2013 (though Forbes did mistakenly say the company is based in San Francisco, but hey, close enough).
They write:
"Rather than bootstrapping, this hard cider company has been run with a tech startup's aggressive emphasis on growth. Founded by Robert Cordtz, David Cordtz and Fred Einstein, Sonoma Cider has been able to leverage $2 million in venture capital and crowdfunding via CircleUp to get on the market less than a year after founding. As the hard cider market doubles thanks to rising popularity among those who can't drink beer, the San Francisco-based company is on track to ship 10,000 cases this year – about five times the amount competitor Vermont Hard Cider's Woodchuck shipped in 2012. With 2013 revenue at $300,000 as the first bottles hit shelves just before Thanksgiving, the company has a projected 2014 revenue of $2.3 million."
Sonoma Cider may be new, but founder and CEO David Cordtz is no stranger to the region and to the cider business. He's been CEO at Vibranz Tea, founder and CEO of juice company Sonoma Sparkler, and winemaker at Cordtz Brothers Cellars. He was also once cidermaker and sales manager at Sebastopol's California Cider Company, maker of the Ace line.
Head here to catch more on Sonoma Cider and the rest of Forbes Hottest Start-ups list!
CT
Posted on Saturday, December 21st 2013
Quality cider flows from Seattle's only cidery
When the founders of Seattle Cider Company started planning Seattle's first cidery since Prohibition they hoped they'd be able to work through six shipments of juice within their first year. It turned out Seattlites were thirstier than the founders expected. Within three months of the August open date the company was already working through their fifth shipment. 
"We're getting calls from at least five different states that are asking for our cider," said Eric Willard, part owner of the Seattle Cider Company.
It makes sense that a cider in the largest city of the greatest apple producing region in America, if not the world, would do brisk business, but SCC is certainly not relying not their default status as Seattle's only cidery to stay in business.
They sell a dry and a semi-sweet cider year round and are already producing excellent like their Pumpkin cider this fall and a New England version for the winter. You can find their fermented beverages in cans, bottles and at restaurants and bars arou seasonals nd the Pacific Northwest, but their SoDo location is the best place to get familiar with the cidery. The cider is made within the same facility as Two Beers Brewing Company and both share The Woods, an attached tasting room and tavern. The three businesses are legally separate entities but are collectively owned by the same group of employees, and that legal barrier doesn't keep the aromas of beer and cider from drifting into The Woods.
With at least four ciders on tap and often special releases - like a fabulously spicy Three Pepper Cider - the timber themed bar is an obvious stop for any fan of cider. Even cider skeptics can find something they like with Two Beers Brewery's beers also on tap, though I'm sure die-hard beer drinkers could be converted after a few samples of Seattle Cider Company's cider. The Woods serves Sodo Pizza to go along with their liquid libations, and even offer some gluten-free crusts for those that are drawn to cider for dietary reasons.
All of SCC's cider are made from the same blend of five dessert apples - each one grown in Yakima Valley - and the same British ale yeast. The Seattle Cider Company avoids milling and juicing their own apples by sending their apples to a local juice. Willard said those decisions were made to make sure they could get a consistent, quality product to market.
"We saw a void of selling a good, local craft product that meets an accessible price point," Willard said.
The company vows to not turn to concentrate juices and continues to experiment with new recipes. The cidery has a mill and press in-house that they use for one-off ciders testing new yeasts and apples - including rare varieties from a Washington State University farm.
It's a shame that Seattle lacked a dedicated cidery for close to a hundred years, but if the Seattle Cider Company keeps turning out great cider we can rest easy knowing that void won't soon return.
By Lester Black, The Cider Times
Posted on Wednesday, December 18th 2013
The next big thing in New York state's burgeoning craft farm-beverage industry may depend on bitter fruit no one will want to eat.
" 'Spitters,' actually, are what we call them," said Ian Merwin, a recently retired Cornell University horticulture professor and grower of rare and heirloom apple varieties at Black Diamond Farm in Tompkins County. "They are not apples you'd want to eat for dessert."
Hard cider containing alcohol can be made with just about any apples, like those in the Finger Lakes' nascent craft cidery business. But cider that could put the region on the map and match its success with farm wineries takes apples grown specifically for that purpose.
There's the Kingston black, for instance, one of those "spitters." Classified as bittersharp, the variety adds tannins and acidity. Apples such as Kingston can be blended with other varieties to make a drink with layers of flavors. The result is a beverage less resembling the alcoholic ciders sold like beer six-packs, and more like quality wines.
Cider-specific varieties were more common when cider was the predominant beverage of choice in the United States before the late 19th century. As consumers' interests changed, it was surpassed by beer, made year-round from easy-to-store grain, and by wine. Orchards shifted to apple varieties for eating, making sauce and filtered juice. New York remained the nation's second-biggest grower of apples, behind Washington, but cider fell by the wayside.
To finish the article and read more on all the great things about New York, apples and cider here.
Cheers!
CT
Posted on Wednesday, December 18th 2013
New look for well-known cider brand
examiner.com:
Strongbow has repackaged its cider in the lead up to Christmas. The new packaging features, "wood-cut style tree illustration, with a printed wood grain finish on the label to reinforce the cider's origins in the orchard."
Strongbow has been around for four decades and remains the number one cider in the Carlton & United Breweries portfolio.
"Cider remains the fastest growing alcohol category in Australia with people choosing to drink cider more often, particularly over the warmer months and we've got to keep up with the changing trends in this category," says general manager of Cider for CUB, Craig Maclean.
"Cider leads mixed drinking occasions – men and women over the age of 18 are moving to traditional and fruit ciders not only at home, but at pubs and restaurants as well."
Maclean says that people over 35 were increasingly choosing cider as their preferred drink, in fact, that group is growing faster than any other.
"When it comes to Strongbow, we want to embrace the authenticity of the brand while also evolving the look and feel of it to keep up with consumers' constant thirst for something new."
Read the original article on Strongbow's branding here. Check out the rest of Strongbow's cider at www.strongbow.com
Posted on Wednesday, December 11th 2013
Angry Orchard pairs hard cider with artisanal cheese
examiner.com:
We love Angry Orchard on its own so when we heard they had introduced artisanal cheese and hard cider pairings, we couldn't be happier. Just in time for the holiday season, Artisanal Premium Cheese Center's award winning maître fromager Max McCalman and Angry Orchard cider maker David Sipes have curated a selection of cheese and hard cider pairings.
Here are a few pairings:
ANGRY ORCHARD CRISP APPLE: This crisp and refreshing fruit-forward cider mixes the sweetness of the apples with a subtle dryness for a balanced cider taste. The fresh apple aroma and slightly sweet, ripe apple flavor make this cider hard to resist.
Crisp Apple + Cremont
Cremont profile: A mix of goat's and cow's milk, from Vermont, this tart and buttery cheese has a mild, salty and creamy finish with a soft, round mouthfeel.
Pairing qualities: Crisp Apple and Cremont pair well together because the cheese is not too salty and the cider is not too sweet, creating a delicate partnership where each balances the flavor of the other. As the Cremont dissolves into the Crisp Apple it gently highlights the cider's freshness, while the acidity of the cider cuts through some of the fats of the cheese. The lightness of the goat's milk coupled with the soft, buttery cow's milk and cream both enhance Crisp Apple's natural crisp and refreshing qualities.
If you love cheese and cider as much as us continue to check out the rest of the pairings here!
Cheers
Posted on Wednesday, December 11th 2013