Vermont Cider Festival
Introducing the Vermont Cider Festival! This one-day inaugural event, scheduled for this Saturday, September 13th, will take place  at The Foundry at Summit Pond, in Killington, Vermont. Provided will be nothing short of excellent cider and stunning views of the peaks and trails of Killington Resort.  Festival goers will explore a comprehensive selection of New England crafted ciders, both hard and natural, as well as a sampling of meads and ice wines. The Vermont Cider Festival will be featuring over 30 products from fourteen different vendors. Locally harvest apples, and award-winning artisan cheeses from every corner of Vermont will also be set up for tasting. Festival hours will be from 11:30 am to 5 pm, tickets are still on sale now!
For more information visit, www.vermontciderfestival.com

Get the list of vendors here!
And as always, share your experience and photos with the Cider Times! Hope you guys have an excellent time.
Cheers,
CT
Posted on Wednesday, September 10th 2014
An Apple for Teacher Finnriver Cider Tasting 
6-9pm Friday, September 5th Saraveza Bottle Shop & Pasty Tavern hosts An Apple for Teacher Finnriver Cider Tasting as part of their Annual Back to School Cider Showcase at 1004 N Killingsworth Street, Portland, OR 97217. Enjoy complimentary samples of Finnriver Farm & Cidery's craft ciders, award-winning port style apple wine and healthy bites of organic, local apples. Limited release Seasonal Ciders from Finnriver will be available on draft for the event and in bottle to go. Fresh, raw apples will be sliced to taste, showcasing culinary varieties sometimes used in cider making. Attendees are encouraged to learn a bit about culinary and cider fruit, explore a variety of flavors, tastes and generally enjoy the bounty of the fermented (and unfermented) apple. Your teacher would want it this way!
Saraveza Bottle Shop & Pasty Tavern recognized as one of America's best beer bars & bottle shops is a well-loved watering hole in the Humboldt Neighborhood of North Portland. An extensive, curated bottle selection, rotating draft collection and delicious Midwest-inspired scratch menu earns loyal fans far and wide. Just a stone's throw from Portland Community College's Cascade Campus, Saraveza celebrates the return to school with an Annual Cider Showcase.
Finnriver Farm & Cidery is an organic family farm and artisan winery producing handcrafted hard ciders and fruit wines on the Olympic Peninsula of Washington. In addition to several heirloom apple orchards, Finnriver farm grows an assortment of berry crops, including blueberries, raspberries, blackberries, strawberries and black currants, as well as a mixed vegetable garden, varied flowers, popular squash varieties. Finnriver Farm also raises honey bees, layer and meat chickens, ducks, pigs and goats. Finnriver handcrafts both traditional and innovative hard ciders and spirited dessert wines from organic and homestead fruits.
Featured Ciders & Wine:
Finnriver Farmstead Cider 6.5% abv (in bottle)
Finnriver Farmstead Cider is the product of a community collaboration. Each Fall, Finnriver invites neighbors across the north Olympic Peninsula to bring their bruised, bitter or bizarre backyard apples in honor of World Apple Day. This charismatic collection of fruit is then fermented. The result is a semi-sweet, unfiltered, frontier-style cider with rustic origins and a juicy apple character. Farmstead then returns the good will of the community as Finnriver allocates 1o cents on every bottle sale of this blend to local food banks. 
Finnriver Forest Ginger Cider 6.5% abv (on draft & in bottle)
Finnriver Forest Ginger Cider, a Fall seasonal blend in the Elijah K. Swan Botanical line tastes like a walk through the orchard and in the woods. A crisp cider with a bright apple core, earthy resinous notes and the warmth of crushed ginger root for a hint of heat. Made from a base of organic Washington and heirloom apples with fir tips harvested from the forest at Finnriver and organic ginger.
Finnriver Lavender Black Currant 6.5% abv (draft & bottle)
Finnriver's Lavender Black Currant Cider celebrates the botanical bounty and beauty of the Olympic Peninsula. Savor the lingering tastes of summer with this special limited release cider, also from the Elijah K. Swan Botanical line. A refreshing purple-hued sparkling cider featuring the organic Washington apple fermented and blended with the sweet and tart delights of black currant. Add to that the delicate floral notes of organic Sequim lavender, sourced from Purple Haze farm, and you have a delicious taste of the summer season.
"Elijah K. Swan" Ciders are named after the good folks who sold us the farm (Lige & Kay Christian) and who first planted apple trees at Finnriver, as well as for the trumpeter swans that overwinter in the valley. These ciders are a tribute to them and to those big white birds who remind us that earth is still wild.
Finnriver Port-Style Apple Wine 18.5% abv (in bottle)
Finnriver Port-Style Apple Wine or Spirited Apple Wine is a richer, dessert offering. The wholesome apple may surprise you with the sultry side revealed in this sumptuous apple wine, handcrafted on Finnriver's Olympic Peninsula family farm. After fermenting the fruit, the tantalizing sweetness of the apples is captured by fortifying with custom-distilled apple brandy. May it bring you warmth and good cheer!
DOUBLE GOLD, Finnriver Spirited Apple Wine, WA, Seattle Wine Awards, 2013
GOLD, Finnriver Spirited Apple Wine, Great Lakes International Cider and Perry Competition, 2013
BRONZE, Finnriver Spirited Apple Wine, Great Lakes International Cider and Perry Competition, 2011
Posted on Thursday, September 4th 2014
Golden State Cider Launches in Bay Area
Joins Portfolio of Heritage Brand Devoto Orchards Cider
Within Fastest Growing Beverage Segment in the U.S.
Sebastopol, CA (August 13, 2014) – Hunter Wade and Nils Reid, founding partners of Golden State Cider (GSC), announced the upcoming launch of their lifestyle inspired, naturally gluten-free beverage.
GSC will be available on draft at select locations throughout the Bay Area this August during California's peak apple season, followed by an expansion down the California coastline. In September, Golden State Cider's flagship Mighty Dry Cider will be available in a pint can 4-pack for a suggested retail of $11.99.
"The Golden State is all about being outdoors, taking in the scenery, and exploring everything California has to offer—mountains, cities, and beaches," said Reid. "This cider captures that spirit. It's crisp and invigorating, and crafted to appeal to the active, health-conscious Californian, and to beer and wine drinkers alike."
Golden State Cider joins the portfolio of Sonoma-based heritage hard cider brand, Devoto Orchards Cider, co-owned by Wade's wife Jolie Devoto and her father Stan Devoto. The Devoto Family has been growing heirloom apples in West Sonoma County since 1976 and is known as one of the Bay Area's most beloved organic orchards.
In 2013, hard cider sales jumped 70% nationally, firmly placing America's original beverage choice on the map as the fastest growing beverage segment in the country. With Devoto leading the way in Sonoma as an artisanal brand with a legacy of quality in elegantly bottled format, the GSC brand is expected to appeal to a wider audience of adventurous millennial men and women seeking a versatile, lighter alternative to beer and a refreshing substitute for wine.
Golden State Cider embodies the farm-fresh flavors that Californians value in their food and drink choices, as all apples are sourced from West Coast orchards. Similar to the Devoto philosophy, quality remains a top priority. Sourcing 100% fresh-pressed West Coast apples, what is not found in Golden State Cider is just as important as what is. Golden State Cider is one of the few cider producers in the country that does not add water, sugar or concentrate to any of its products. With a 5-8% alcohol level, hard cider is equivalent to craft beers, but offers a gluten free alternative. GSC pairs deliciously with fresh, California cuisine… and always perfectly with the California sunset.
About Golden State Cider
Born in 2014, Golden State Cider captures the essence of the California lifestyle with a boldly refreshing, naturally gluten free alternative to beer or wine. Available on draft and by the can, GSC is the perfect compliment to the California lifestyle. Founded by Hunter Wade and Nils Reid, Golden State Cider will be available on draft and in the can throughout the Bay Area before working its way down the California coastline. For more information, please visit drinkgoldenstate.com or call (617) 519-1348. Follow Golden State Cider on Facebook, Twitter and Instagram: @drinkgoldenst8.
About Devoto Orchards Cider
Grown on the highly prized Goldridge soil of Sonoma County, Devoto Orchards was originally founded in 1976 by Stan and Susan Devoto. Sourcing from the 6,500 apple trees – including more than 50 heirloom apple varieties – on the family's 20-acre farm, this semi-dry cider is an elegant alternative to beer and offers a lower alcohol alternative to wine. Hand-picked at the peak of ripeness, Devoto's apples are pressed and fermented in stainless steel to preserve the aromas and bright acidity of the fruit. Today, Devoto Orchards Cider is owned and operated by Jolie Devoto and Hunter Wade. For more information, please visit www.devotocider.com or call 707-861-0595. You con follow Devoto Orchards on Facebook, Twitter and Instagram: @devoto_orchards.
Posted on Thursday, August 28th 2014
Seattle Cider Company Triples Capacity & Doubles Market Availability as it Celebrates One Year Anniversary 
Booming cidery triples capacity and expands to seven markets in just one year; anniversary party with limited edition ciders, food truck & more on 
August 23
SEATTLE (August 13, 2014) – In just one year, Seattle Cider Company - Seattle's first and only cidery since Prohibition - has grown larger than its team could have ever expected. Launching with a mission to bring dry, flavorful ciders to the Pacific Northwest, bridging the gap between wine and beer, Seattle Cider now nears its one-year anniversary with an expansion set to make them the second largest cidery in the state. Selling through more than 83,000 cases of cider in just one year, the growing cidery is expanding both its capacity and market availability, now reaching four states and three countries. To celebrate, Seattle Cider Company will be marking the milestone with its biggest party yet on Saturday, August 23.
 "We've had an incredible and unexpected year," said Joel VandenBrink, founder of Seattle Cider Company. "We knew there was demand for a new type of cider, but couldn't have anticipated the overwhelming positive response our products have received. Needless to say, we're thrilled and can't wait to continue our expansion." 
Adding an additional five 60bbl tanks and quadrupling its staff, Seattle Cider Company is now able to produce more than 235,000 cases of cider per year. The increased capacity comes just in time for Seattle Cider Company's expansion to Chicago, Vancouver, BC and Japan – joining Washington, Oregon and Alaska – with plans for expansion on the East Coast, California and throughout the Midwest in the works. With increased demand for products that break the mold of overly sweet cider, Seattle Cider Company plans to continue to produce unique flavorful ciders, bringing the true and natural flavors of Washington apples to the forefront. 
To celebrate, on Saturday, August 23 from 1-7pm, Seattle Cider Company will open its doors for a party unlike any other with more than 15 of its own ciders on tap. In addition to its usual (but still unique) lineup, on tap will be an array of limited edition ciders pouring only at the party. The current anniversary cider lineup includes:
Dry
Semi-Sweet
Three Pepper
PNW Berry
Pumpkin Spice
2013 Washington Heirloom 
Honey
Maple 
Blueberry
Six Pepper
Red wine barrel-aged PNW Berry
Batch 206 gin barrel-aged Gin Botanical
Westland Single Malt barrel-aged double-fermented Wild Ferment
Westland Single Malt barrel-aged New England Style
Cyser
Ciders will be available for purchase between $4-$6 per 12-ounce glass. Packaged product will be available to go. In addition, the first 500 people to arrive will receive a free Seattle Cider Company poster. Additional t-shirts, growlers, posters and glassware will be available for purchase. Popular free food truck NaanSense will be onsite throughout the day serving up a delicious gluten-free menu. 
Seattle Cider products can be found in stores and on tap throughout Washington, Oregon, Alaska and Illinois, with growing list of locations available at seattlecidercompany.com. Tastings, pints and packaged products are also available at The Woods tasting room, which shares the space with Two Beers Brewing Co. For more information, follow Seattle Cider Company on Facebook, Twitter (@seattleciderco) and Instagram (@seattleciderco). 
Media interviews, samples and photos available upon request. Please contact Caitlin Braam at caitlin@caitlinbraam.com. Establishments interested in carrying Seattle Cider Company products are encouraged to send inquires to info@seattlecidercompany.com. 
About Seattle Cider Company
Not your standard cider. Seattle Cider Company is the city's first cidery since prohibition, bringing true craft cider back to Seattle. Bridging the gap between wine and beer with flavorful, small-batch cider, Seattle Cider's initial offerings – Dry and Semi-Sweet – break the mold of overly sweet cider, bringing the natural flavors of Washington apples to the forefront. Naturally gluten free and made from a custom blend of fresh pressed, locally grown apples, Seattle Cider's products are handcrafted with all natural ingredients and never from concentrate, successfully distinguishing themselves from the mass market cider found in stores today. Available in 16-ounce cans, Seattle Cider products are available at retailers and bottle shops throughout Seattle. Seattle Cider is also available on tap in Seattle-area bars and restaurants, with tastings, kegs and growler fills available at The Woods tasting room, located at 4700 Ohio Ave. S. in SoDo, open weekly Tuesday - Saturday. For more information, visit seattlecidercompany.com, or follow Seattle Cider Company on Facebook and Twitter (@seattleciderco).
Posted on Wednesday, August 20th 2014
Cider Summit PDX Fact Sheet
What: 4th annual festival. 140 ciders expected from 37 producers. Ciders from 6 states and 7 countries. 73 from OR. Over 60 ciders never previously poured at event.
When: Friday, 6/20 from 3p‐8p (VIP ticket session starts at 2p) Saturday, 6/21 from 12n‐6p
Where: The Fields Neighborhood Park, NW 10th & Overton
Cost: $25 if purchased in advance online or at sponsors & local bottle shops.
Admission includes a souvenir tasting glass and 8 tasting tickets. Additional tasting tickets available onsite for $2 each.
VIP ticket is $35, available online only. Includes glass and 12 tasting tickets along with 2pm admission on Friday. Limited quantity available.
Designated driver tickets available for $5 and includes a bottle of water.
All tickets allow re‐admission Fri/Sat with wristband and glass.
Food: Specially paired foods available for purchase from World Foods & St. Honore Boulangerie. Additional food vendors include Masala Pop, Smitten Truffles, and Fifty Licks Ice Cream
Music: Live music on both Friday & Saturday produced in conjunction with the Cascade Blues Association. Includes noted local musicians Ellen Whyte, Lloyd Jones, & Norman Sylvester and dedication of the Jim Miller Festival Stage.
Other:
-The Unleashed by Petco/DoveLewis Dog Lounge. Dogs of all ages are welcome.
- Event store featuring bottles‐to‐go, growler fills, t‐shirts, shopping bags, cider books, & more.
- Free BREWVANA shuttle from SE Portland to event and back.
- THIS EVENT IS STRICTLY 21 & OVER.
Tix & info:
https://www.facebook.com/events/713641002012541/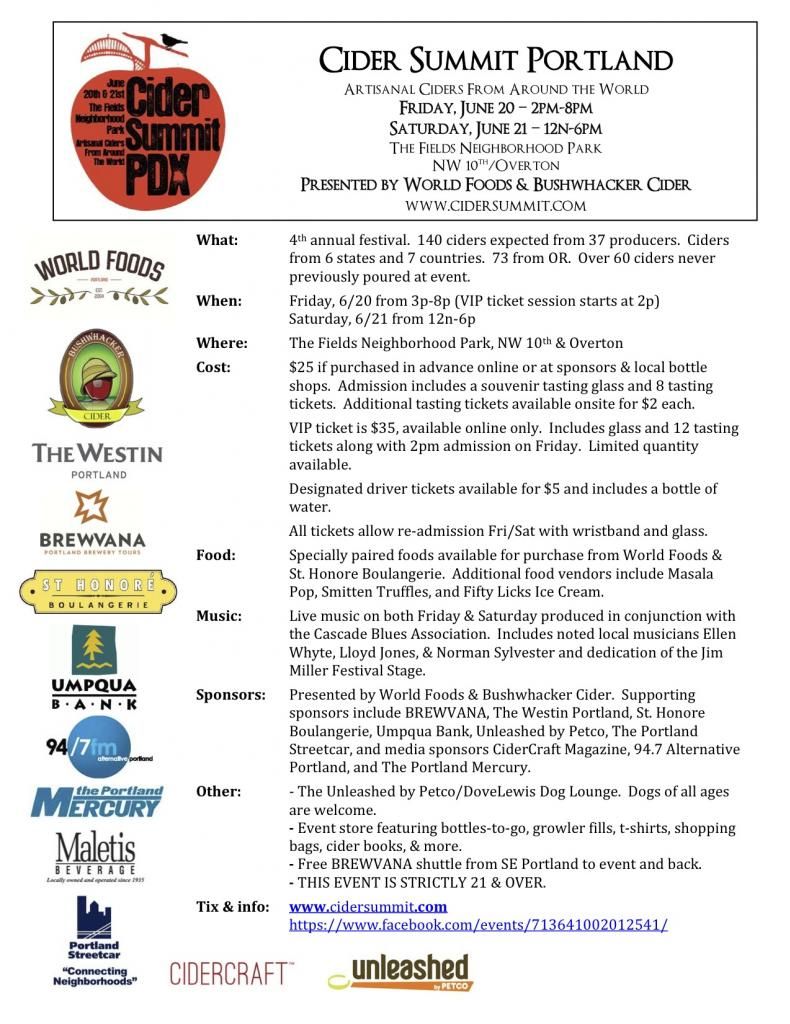 Posted on Thursday, June 19th 2014
Cider Growlers Now in Effect in Washington State -
A whole slate of new Washington state laws went into effect last Thursday, 90 days after the legislative session ends. Among them are a few laws that affect the way Washingtonians can get their drink on. Here are the changes:
Places licensed to sell beer growlers can now also sell cider growlers.
Craft cider is booming in Washington state, but the law hasn't been exactly clear on how to deal with it. Is it more like wine? More like beer? Well, the passage of SB 6442 means that cider can be sold in growlers — the reusable, typically glass jugs — the same way beer on tap has been sold for years from local bottleshops and bars. The Northwest Cider Association expects this to be a huge boon for cideries trying to get a spot on local tap lists. The bill passed on March 19, and went into effect June 12.
Read more on the new laws taking effect in WA here at the Inlander blog.
You can also find more blogging on Cider Growlers in WA on TwoBrewReview.com
Photo used by inlander.com
As always, keep on drinking cider.
Cheers,
CT
Posted on Wednesday, June 18th 2014
SONOMA CIDER LAUNCHES DRAFT, ADDS "KILLER" BRAND AMBASSADOR AND CONTINUES DISTRIBUTION EXPANSION
May 22, 2014, Healdsburg, CA – Sonoma Cider is pleased to announce the launch of its draft portfolio of three ciders and the company's first official brand ambassador, Ronnie Vannucci, Jr., drummer for American rock band, The Killers. Additionally, Sonoma Cider continues to sign distribution partners, having recently completed agreements with Republic National Distributing in Texas, Southern Wine and Spirits in Nevada, Click Wholesale in Washington State and Advintage Distributing in South Carolina.
According to Cidermaster and CEO, David Cordtz, "The hard cider category continues to grow rapidly, and we are excited to support this movement with expanded market coverage and our draft ciders. The association with Ronnie, a Las Vegas native, who has been an enthusiastic supporter of our mission, will give us a terrific boost as we enter the Nevada market and help us connect with like-minded music fans across the country."
VP Sales Fred Einstein noted, "Sonoma Cider on draft provides a unique on-premise experience and trial opportunities for new consumers. Kegs are now available in California including San Mateo, Marin, San Francisco, San Luis Obispo, Santa Barbara, Sonoma and Ventura; plus Portland, Oregon and Seattle, Washington. In time, draft will become available in Sonoma Cider's wider distribution network, which now totals 27 distributors in 17 markets."
Sonoma Cider is available in both 5.16 gal. and 15.5 gal. kegs in each of three flavors: The Hatchet blends sweet and tart apple varietals to ideal effect; The Pitchfork is apple based, infused with essence of pear; and the Anvil spikes apple cider with a measure of barrel-proof bourbon flavor. Sonoma Ciders are certified USDA organic, made with all-natural, gluten-free ingredients and distinctive proprietary flavors. Trade support materials include custom tap handles, proprietary pint glasses, coasters and metal signage.
Posted on Tuesday, May 27th 2014
Finnriver Cider Dinner at Harvester Brewing Gastropub 2030 SE 7th Street, Portland, OR 97214. 6:30-9:30pm, Wednesday, May 28th. Five Delectably Gluten Free Courses Made with & Paired with Finnriver Ciders, $65. Hosted by Chefs Neil Davidson & Lauren Chandler with Finnriver Farmwife and Co-founder, Crystie Kisler. Tickets available: http://finnriverharvester.brownpapertickets.com/  
FINNRIVER
Finnriver Farm & Cidery is an organic family farm and an artisan winery producing handcrafted hard ciders and fruit wines. Farming and fermenting on 33 acres along a restored salmon stream in the Chimacum Valley, south of Port Townsend on the north Olympic Peninsula of Washington, Finnriver strives to create deep-rooted & fruitful connections. Finnriver Farm & Cidery produces award-winning craft cider and is engaged in the earnest pursuit of wise land stewardship. Crystie Kisler, co-founder of Finnriver, is a contemporary farmwife with a passion for reconnecting people to wild and working land. Crystie is Finnriver's storyteller and loves sharing the tale of why we farm and ferment on this good, green earth.

HARVESTER BREWING
Harvester Brewing is a local, dedicated gluten-free brewery. Every beer made is gluten-free, made in Harvester's brewery where no gluten containing items are allowed through the door. Harvester sources ingredients as locally as possible including chestnuts and hops from the Willamette Valley.  Attached to the brewery is Portland's first ever gluten-free brewpub, led by Chef Neil Davidson who trained under Thomas Keller in Napa Valley with a focus on locally sourced vegetables and meats served in the Gastropub.

LAUREN CHANDLER
Through Lauren Chandler Cooks, Lauren offers personalized culinary programs to help cooks of all skill levels & dietary preferences get out of their cooking rut and make healthy taste downright delicious. Her public and in-home dinner classes, personalized cooking lessons for individuals and groups, and original recipes celebrate our Pacific Northwest bounty. A graduate of the Natural Gourmet Institute for Health & Culinary Arts, Lauren has cooked her way around the world in restaurants, on farms, and in classrooms. 
MENU
1st
Amaranth-Walnut Crisp with Caviar Lentils & Ancient Heritage Pearl Cheese
Finnriver Black Currant Cider 6.5% abv
A lively craft cider, with an earthy sparkle and purple blush. This semi-sweet cider explores the tart mysteries of black currant. Fermented on the farm using 100% apple juice pressed from Washington organic heirloom and dessert apples.
2nd
Snap Pea & Radish Salad with Ricotta Salata and Farmstead Dressing
Finnriver Farmstead Cider 6.5% abv
An earthy, semi-sweet cider made with a blend of community-harvested apples, and traditional & dessert apple varietals. Unfiltered for a rustic finish and hearty taste of frontier cider tradition. Portion of proceeds benefits local Food Banks. 
3rd
Choice of Black Cod or Tempeh with 
Chickpeas, Morel Mushrooms & Asparagus Braised in Habañero Cider
Finnriver Habañero Cider 6.5% abv
A blend of chili heat and tart apple, mellowed by a dash of sweet, makes for a spicy cider adventure. Fermented on the farm using 100% apple juice pressed from Washington organic heirloom and dessert apples,
with organic habanero chilies.
4th
Ancient Heritage Dairy's Hannah Cheese with Green Strawberry Compote
Harvester Apple IPA – Experiment Ale 6.1% abv
Apple IPA features the wonderful characteristics of a dry cider crossed with a classically-hopped Northwest IPA. It starts with an IPA base brewed with buckwheat and chestnuts and kettle hopped with three large aroma additions of Centennial hops. Then apple must is added to create a mixture of 51% IPA and 49% cider. The blend is fermented with an American ale yeast, and is finished by dry- hopping with 10lbs. of Centennial hops. 
5th
Honey Polenta Cake with Rhubarb Lemon Balm Gelée & Chamomile Sorbet
Paired with Finnriver Seasonal Honey Meadow Cider 6.5% abv
Finnriver's seasonal botanical ciders celebrate the bounty and beauty of the fields and forests and gardens of the Olympic Peninsula. The Spring offering, Honey Meadow Cider features strong honey warmth with herbal, floral notes from locally grown lemon balm and organic chamomile. Lemon balm offers a tangy, grassy citrus brightness. Feel like a bumble-bee just released in a spring meadow!
Posted on Monday, May 26th 2014
Cider Summit Portland Celebrates Fourth Year with Move to the Pearl
Diverse Gathering of Artisanal Ciders Expands to The Fields Neighborhood Park

(Portland, OR)  May 14, 2014   SBS Imports and the Seattle Beer Collective are pleased to announce the return of Cider Summit NW Festival to Portland, OR.  The fourth annual event will take place Friday, June 20 from 2p-8p and Saturday, June 21 from 12n-6p.  Cider Summit is expanding to the new Fields Neighborhood Park at NW 10th/Overton in the Pearl District.  The event is presented by World Foods & Bushwhacker Cider.

This will be the eleventh Cider Summit produced by SBS & Seattle Beer Collective, having launched the concept in Seattle in September 2010 and expanding to Portland, Chicago, and most recently Berkeley.  This year's event will feature over 120 ciders from producers around the country and around the world.

The owners and cidermakers will be on hand to inform and guide guests through the samplings which will be available in 4-ounce tasting portions in a souvenir festival glass.  In addition to the superb range of ciders, the event will feature the DoveLewis / Unleashed by Petco dog lounge, expanded food selections from World Foods & St. Honore Boulangerie, special dessert pairings from Smitten Truffles and even cider ice cream.  There will be live music each day produced in conjunction with new event beneficiary, Cascade Blues Association.

The popular Brewvana Brewery Tours shuttle will run a continuous loop from SE Portland to the Park and Cider Summit also encourages use of the Portland Streetcar to the event

 "We believe we've created a unique event," noted Ian Roberts of SBC.  "Interest in artisanal cider is exploding right now, and this event is the premier sampling opportunity for both the cider enthusiast and cider curious."

"We appreciate the generous support the South Waterfront community provided for our first three events," added event co-founder Alan Shapiro of SBS Imports.  "However thanks to the great reception of the Portland cider community we simply outgrew the space.  We look forward to a long and successful partnership at our new home in the Pearl."

Tickets are $25 in advance and $30 (cash only) at the door and are available online via Stranger tickets, Umpqua Bank Pearl District branch, and at many of the area's leading bottle shops.  Admission includes a tasting glass and 8 tasting tickets.  Additional tasting tickets will be available for sale onsite at $2 per ticket.

New for 2014 is a special VIP ticket available for $35.  This ticket includes 4 additional tasting tickets and exclusive early admission on Friday from 2p-3p.  Only 200 of these tickets are available - exclusively online via the event website.

Re-admission will be allowed at any time with event wristband and tasting glass.  THE EVENT IS 21 & OVER ONLY.  Dogs of all ages will be allowed on event grounds.  For more information including a list of participating ciders please visitwww.cidersummit.com.

Cider Summit NW benefits Northwest Cider Association, The Institute for Myeloma & Bone Cancer Research,  DoveLewis Emergency Animal Hospital, and the Cascade Blues Association.

Cider Summit NW is presented by World Foods & Bushwhacker Cider with supporting sponsors, Brewvana Brewery Tours, St. Honore Boulangerie, Umpqua Bank, The Portland Westin Hotel, KNRK 94/7 Alternative Portland, Portland Mercury,  Cidercraft Magazine, Maletis Beverage,  and Portland Streetcar.

For more information contact:
Alan Shapiro - SBS Imports
206.527.4191
alanmshapiro@sbs-imports.com
Posted on Thursday, May 15th 2014
CIDERCRAFT, NORTH AMERICA'S FIRST CIDER PRINT PUBLICATION, LAUNCHES SPRING 2014
Seattle, WA (April 8, 2014) - From Sip Ventures, the privately owned and operated publisher behind the award-winning regional beverage publication Sip Northwest, comes CIDERCRAFT—the first North American magazine dedicated to cider. CIDERCRAFT devotes itself to shining a light on the evolution and resurgence of one of the oldest beverages on the continent, bringing both education and appreciation of the drink to the thirsty people.
With circulation for the inaugural issue commencing at 25,000, the bi-annual CIDERCRAFT magazine will profile the artisans behind the craft, while exploring the regions andorchards, meeting the movers and shakers of the industry, listing original cocktail recipes from nationally renowned bar-chefs, recommend pairings with cider-friendly cuisine and aid as a connection between the consumer and cider producers.
"I am immensely grateful for the editorial team of international cider writers and experts we have enlisted for this first issue," said Erin James, CIDERCRAFT editor-in-chief. Contributors include "World's Best Ciders" authors Bill Bradshaw and Pete Brown, along with international cider aficionado Rowan Jacobsen and many more talented cider wordsmiths. "The response we've had from food and beverage writers has been very inspiring," James said. "We knew we could acquire a stellar set of professionals."
The favorable reaction wasn't just from passionate drink writers, but from North American cider producers as well. "Cider is in a state of incredible growth right now, however, few people really know what cider is all about or the diversity the craft of cider represents," James Kohn, co-owner of Wandering Aengus Ciderworks in Salem, Ore., said. "CIDERCRAFT will be huge for the burgeoning cider industry because it will show cider for what it really is—a diverse and legitimate drink."
Vermont Hard Cider COO/CFO Dan Rowell, who sits on the United States Association of Cider Makers board of directors with Kohn, echoed the same sentiment. "The cider category is growing quick and pulling drinkers from beer, wine and spirits alike," Rowell said. "Interest in cider is rising, which leads to the desire for knowledge and a thirst for trying new cider styles. Having a publication focused on delivering the story of cider and of the many great cider makers across the country will drive greater interest and growth in the cider category."

For advertising opportunities, contact Kristin Ackerman at publisher@cidercraftmag.com. For editorial questions, contact Erin James at editor@cidercraftmag.com. To subscribe visit www.cidercraftmag.com.CIDERCRAFT is published by Sip Ventures, 1700 7th Avenue, Suite 116 #378, Seattle, Washington, 98101.CIDERCRAFT can be found online at www.cidercraftmag.com, and on Facebook and Twitter.
Posted on Thursday, April 10th 2014
California's Bonny Doon Vineyard asked themselves a question when they started planning their most recent cider offering ­ what would the fermented juice of pears, apples and quince taste like?  They called their creation ¿query? and were nice enough to send Cider Times a bottle so we're gonna help answer some questions posed by the Santa Cruz winery's new beverage:
1.What is a quince?
Quince is a small fruit similar to a pear and is in the Rosaceae (rose) family, which includes ¿querry?'s two other fruit ingredients: pears and ciders.  If you really want to get into the weeds of the big rose family tree check out Hawthorn and medlar fruits.
2. What does ¿querry? look like?
The cider (with 62% pears, 36% apples and 2% quince, it's neither cider nor perry by most definitions,  but we'll just ignore those rules and call it a cider) is a golden yellow, just like the Quince fruit you just learned about.  You didn't ask yet, but it smells of apples and pears and the mustiness of Bonny Doon's indigenous yeast.
3. How many points is the word quince worth in Scrabble?
It's 17 with no bonuses, but we here at CiderTimes think it's worth saving that word until you can get at least a double word score, even better if you can get a triple word score, that's a cool 51.
4. But what does ¿querry? taste like?
Geeze, slow down, don't you want to know how they fermented the quince? No, you don't? It includes two more vocab words.  Ok, if you really don't care about muslin bags and tisanes of quince, we'll just get to the point.  ¿querry? is surprisingly smooth and sedated.  Apple and pear flavors crisply blend with a perfect balance between sugars and tannins.  The sugars shine for a moment, before a soft dose of tannins cleans your palate without ever hinting of astringency.  A very light amount of carbonation makes it perfect pairing for dinner.
5. Where's that dang Malaysian airliner?
The Cider Times declines to comment.
6. What food pairs well with ¿querry?
We would need a full case of ¿querry? to evaluate how it pairs with everything Bonny Doon recommends ­ a list that includes humble meat pies and elegant lobsters and adjective­ free charcuterie ­ but we can answer how it matches up to a good ole arugula, pear and walnut salad.  When we paired the two at a dinner party they were incredibly fond of each other.  The salad dressing's acidity worked well with the moderate amount of acid in the ¿querry?, the walnuts gave a little more earthiness and neither party dominated the conversation.  I wouldn't want to put ¿querry? up against particularly loud dishes, I could see a spicy thai soup or rich American barbecue squashing the cider's subtle flavors. 
7. So, should I buy a bottle of ¿querry??
Yes, there's a lot of reasons to add this cider to your collection.  It's a fun cider that would be a great start to any dinner party.  It's not as bombastic in the flavor department as some ciders, but it's a gem in terms of balance and subtlety.
By Lester Black, The Cider Times
Posted on Monday, April 7th 2014
Why is cider the world's most misunderstood drink?
There's no easy way to humblebrag this so let me get it out of the way and move on: I just got back from Chicago, where I was flown and accommodated for a week mainly so I could drink cider.
Well, it was one way to celebrate the end of Dry January.
I was invited to Chicago, which is currently located in the depths of the arctic, to talk about World's Best Cider, the book I wrote with photographer Bill Bradshaw, to several hundred American cider makers attending the industry's annual CiderCon. After the trade conference there was a public event, the Chicago Cider Summit, where 4000 punters – most of them very new to cider – came along to sample and celebrate a drink that is doubling in volume every year.
There was a bullish confidence among the cider makers, spiked by the rush of an event that, already in this fledgling cider scene, outstrips any celebration of cider I've seen in the UK.
My conference presentation was subtitled 'The world's most misunderstood drink.' Cider confuses people in myriad ways around the world, and I'm not just talking about the effect of drinking a lot of it. One of the biggest areas of misunderstanding seems to be around what cider actually is.
Read the rest of Brown's thoughts on cider here.
Article by Pete brown
Photo and article by London loves Business
Posted on Friday, March 7th 2014
Review: Alpenfire's "Glow"
Steve "Bear" Bishop - who owns and runs Alpenfire Cider with his wife Nancy - has been fighting fires in the Northwest since 1976.  When the Bishop's decide to start making cider professionally in 2001 they decided to take inspiration from Bear's days as a firefighter when naming their Port Townsend orchard and cidery.  After running into trademark issues with the name "wildfire," the Bishop's settled on "Alpenfire."
Their ciders carry on the fiery naming tradition with names like "Ember," "Flame" and "Smoke," but their "Glow" embraces the company theme in more than just name.  The cider pours a brilliant pinkish red just like the light thrown across a night sky by a distant wildfire.
The cider has both a sweet and tart nose, smelling of candy apples and just a bit of pleasant acidic aromas.  Those candy apple flavors dominant Glow's flavor but the acidity of the cider - it's quite a bit more acidic than Alpenfire's semi-sweet "Spark" - tempers the cider's sweetness.  Those sugars do become more apparent in the mouthfeel, with sugar lingering in almost a cloying fashion.
For all of the fieriness of glow's name it's actually an excellent display of balance.  Those higher levels of acidity help deliver the cider's sweet flavors with more a zing, while the sugars provide great flavor and keep the malic acid from overwhelming the drink with acidity.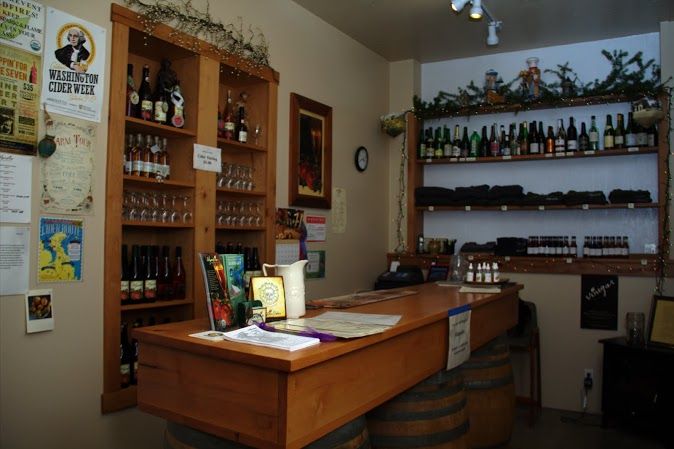 Glow gets its color from "Hidden Rose" apples, a rare varietal with surprising reddish flesh covered by a yellow skin.  There's solid scientific evidence (like peer-reviewed scientific journals of evidence) that the appearance of food affects how it tastes to humans and Glow is a great example of why appearance is important to cider just like flavor and aroma.
Balanced in flavor, interesting in aroma and beautiful look at, Glow is great in all three of those categories, so head over to your nearest specialty cider purveyor (Alpenfire's ciders are currently only distributed along Washington's I-5 corridor) or pick up a few bottles at the cider's Port Townsend tasting room.
Overall rating: Excellent.
By Lester Black, The Cider Times
Posted on Monday, February 10th 2014
United States Association of Cider Makers New Board
Chicago, IL – The United States Association of Cider Makers (USACM), the national trade association of the cider industry, has elected a new Board of Directors.  After a year of astounding growth in the US hard cider industry, some 200 member cider companies that make up the USACM, met in Chicago as part of their annual Cider Conference.
Throughout 2013, the organization worked to grow membership and advance legislative priorities.  It led to the creation of the CIDER Act which is currently making its way through the US House and Senate.  The bill seeks to create a tax definition for cider that allows for increased carbonation and higher alcohol by volume over what current tax law allows.
Find out who is holding a position on the new board here!
Original article and picture by Brewbound
Posted on Monday, February 10th 2014